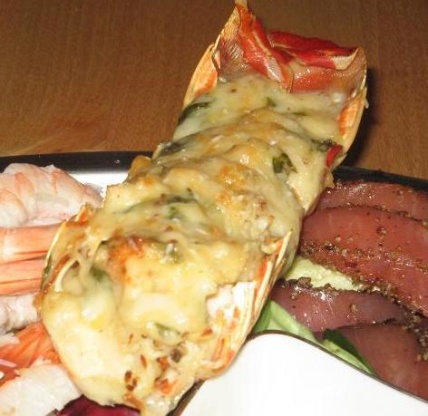 BAKED LOBSTER with CREAM
Morton's the Steakhouse Restaurant Recipe
Serves 1
1 (3-5 lb.) live lobster
2 tablespoons heavy cream
7 tablespoons clarified butter
1/2 lemon, for garnish
Preheat the oven to 450 degrees.
Remove the clams from the lobster and crack with the back of a knife. Set aside the claws. Split the body in half and remove the small stomach sacs behind the eyes of the lobster. Arrange the lobster and the claws in a shallow baking dish, split side up, and add the cream to the body's cavity, being sure to cover any roe. Drizzle the tail with 2 tablespoons of the butter.
Bake for 15 to 20 minutes, depending on the size of the lobster, until the shell turns bright red and the lobster meat is opaque. Transfer the baked lobster to a plate. Garnish with the lemon half. Serve with the remaining 5 tablespoons of butter in a small butter in a small bowl alongside the lobster.
Cook's Notes: Before removing the claws from the lobster, insert a small, sharp knife into the back of its head. This will sever the nervous system immediately.